Earphone with MIC is one of the popular earphones in audio industry, sometimes, it refers to the wired type of earphones with the microphone which is widely used on Mobile phones, Tablets etc, it's essential device to connect with your smartphones & tablets for enjoy your music & movies, gaming, phone call, and work & study.
There are too many designs of Earphone with MIC on the market, most of its microphone built-in the line of cord, which is close with users' mouth, users can simply press the button on the microphone to pick-up the phone call or the reject the calling. Another type of Earphone with MIC is the microphone designed with rotatable boom and installed on the left side of On Ear & Over Ear Headphone, the users can adjust the angle of the boom microphone when using it.
Both type of Earphones with MIC we mentioned above are very ubiquitous, it have own features and advantages, however, both types may not be best for mobile phones gamers. The earphones with microphone built-in line may have competitive price and simple design, it may suitable for phone call, however, users may have to hold the microphone by fingers and move it the places where is more closely to user's mouth so that the listeners at another side can hear this users' pronunciation clearly. This tiny action seems acceptable and durable for most of the users when they use their mobile phone to connecting with their earphone to make a phone call with others, however, for the mobile phone gaming users, this is not tolerate at all, for the gamers' two hands and attentions are highly focus on the gaming when they play with mobile phones, obviously, such of the Earphone with MIC is a burden for the users.
As for another type of earphone with MIC which have On Ear & over Ear design with rotatable boom microphone, this type of headphones have very large size including the large size of microphone, even-though it can offer comfortable user experience for its large and soft ear cushion on the headphones, however, when it connect with the mobile phones, it looks too large in size, nor portable or convenient for the mobile phone gamers at all.
So here is the key question, what are the mobile phone gamers' requests on the Earphone with MIC? According to the reliable statistics, here are the basic requests as below:
The wired earphone with MIC have small and lightweight enough with portable size rather than heavyand large so that they will feel no pressure and more convenient when they play the mobile games on subway or bus, airport etc.
It have to be secure fit when the gamers wear it for gaming
Multi-functional on this earphone, rather than the sole microphone on the cord of earphone, so the volume control and next/previous track are requested on it
More earphone jack including the 3.5mm headphone jack, type-C plug and lighting plug are availablefor options can that it can be used on difference type of smartphones and device
Cool designs of earphones seems very popular for most of the smarpphones gamers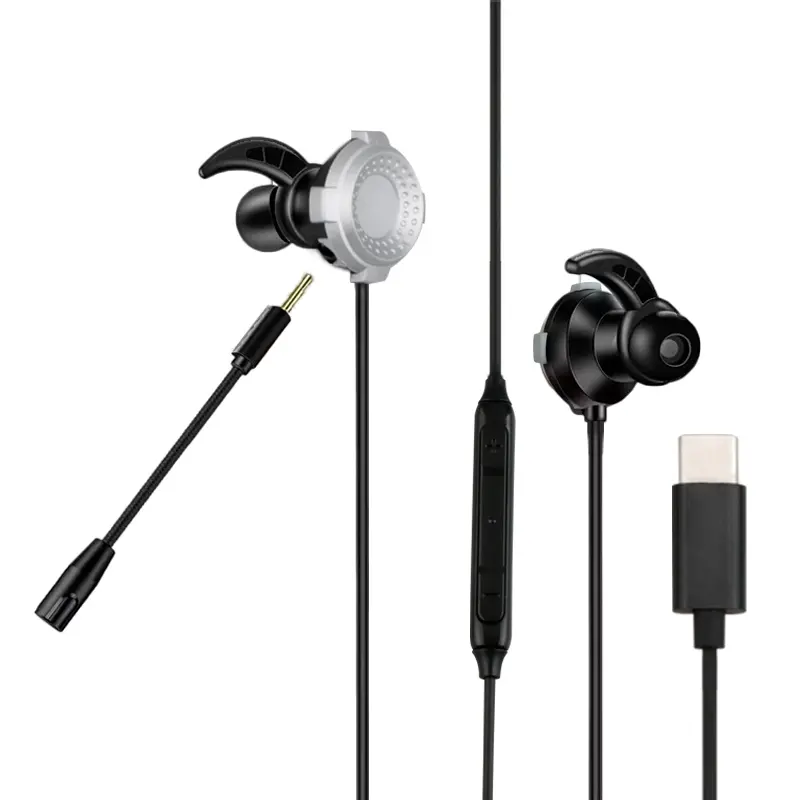 We are Kimmar, as the professional factory of earphones and headphones, luckily, we released our own Wired Earphones with MIC which is perfect for mobile phone gamers, it can comply with all the smartphone gamers request s on the earphones which were summarized above and vital, there is Ear tip on this Earphone which can 100% guarantee than this earphone can also be firmly fit when the gamers are play with it. We design the microphone as boom type, but make a great changes on it, that' is we made it much smaller and it can be detachable from the earphone, when the users don't need the boom microphone, it can be removed from the earphone, we definitely sure that this is a cool design for the mobile phone gamers