I'm so glad you're here! Everything we do here at the headphone factory revolves around a single, simple principle. We believe in manufacturing, research and development. We even believe in brands, products, or services.
If you are spending a good time here and then you are tired after working the whole of the week and looking for some rest, it is a good idea to relax with headset which bought from the headphone factory
How Are Headphones Made in headphone factory? What does the inside look like?
So, you're interested in learning about the different ways headphones are made in a headphone factory? Well, we've got you covered and let's take Wired Headphones for example
Here's how it all works in a summary:
#1 The first unite that make your headphone works is called sound driver, which is also known as speaker, the speakers built-in the headphone and make the sound, this type of speakers have many types, from the diameter, it can be varies from 27mm~50mm speakers, the large of the diameter will be, the bigger of the sound it will make. This is the key part for headphones to works.
#2 Headphone Housing are always made from plastic or metal, wooden materials, this unite is used to protect the speakers inside the Headphones Housing. In most times, there are four parts of headphones housing for two side, each side of Headphones Shell, there will be Front housing and Back Housing, the Front Headphone housing are closed connected with Users' Ear, the Back Headphone Housing can be touched by hand directly which is outward to the air. When headphone factory assemble headphones, the Headphone Housing are essential parts. There are two kinds of Headphone Housing: On Ear Headphone Housing and Over Ear Headphone housing to meet with different clients requirements
#3 Next up is the padding or cushion. Headphones need foam or something soft like PU to put on your ears! But not too soft… we don't want people getting hurt. So it has to be soft enough for comfort but firm enough for safety!
#4 Then you have the wires. These come in a bunch of different colors. Which color do you believe is the most appealing? I bet it's green, black and red! these are my favorite color.
#5 Next up, the headphones cord with 3.5mm audio Plug need to be connected.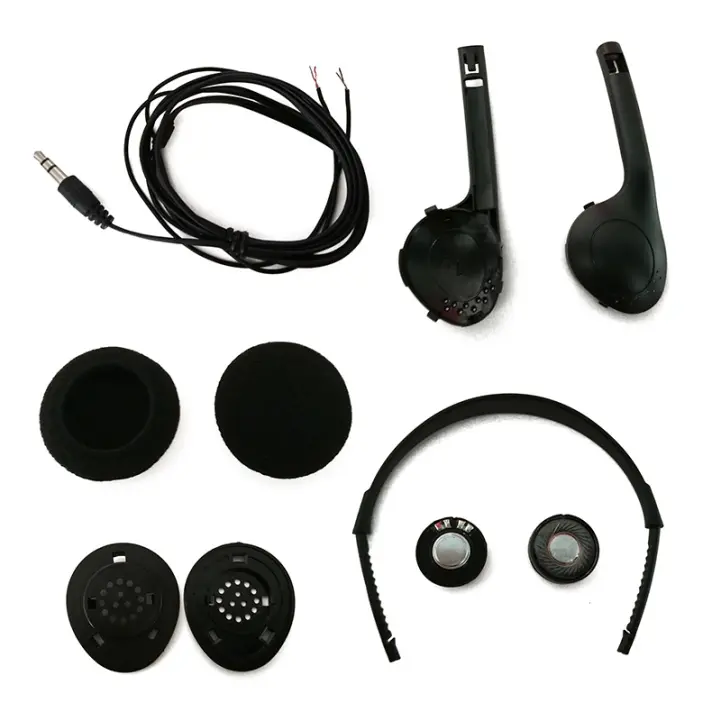 How to Choose Headphones from a headphone factory?
When you're in the headphone factory or market for headphones, it can be hard to know what to look for. There are various brands, styles, and features to choose from. If you don't know what you're looking for, it's easy to end up with a pair that doesn't do what you want or expect.
First and foremost, always make sure to read reviews. You can find reviews on websites like ours: Kimmar has a great series of articles going over all of the important information. No matter the site, take care when reading reviews—there are plenty of sites out there that collect fake reviews from people who have never even used the product before!
When it comes to price, there's no such thing as "overpriced." What one person may find as "too much" money might be worth it for someone else. One thing to keep in mind is that if you buy headphones with too many fancy features (like in-line remotes or noise-canceling), they may not last as long as headphones that are more focused on sound quality.
If you're looking for a specific brand name, make sure you check how long they've been in business and how established they are in the headphone factory or market.
Reasons to Buy Headphones from The Headphone Factory:
Hey there. I'm with Kimmar, the headphone factory. We make headphones, and we think you should consider buying them from us.
We're here to help you understand why it's worth it to buy from a headphone factory like us with well-reputation instead of a company that just sells headphones. For starters, think about how much time you spend every week clipping your earbuds into your ears. If you're anything like us, it's an embarrassing amount of time. And if you're anything like us, you don't want to spend that much time clipping your earbuds in every day.
Now imagine how much time you could save if your earbuds did the clipping for you! Just imagine no more sore ears from having to use those little metal arms; no more fumbling with the clips when they fall out of your hair, and no more having to look down at your hands as you sprint to your next meeting because of those stupid clips keep flinging out of your hair and hitting people in the face. It's a life-saver!
Not only will the headphones save you all this time, but they'll also be more durable than any other pair on the headphone factory or market —and in case one breaks.
Want to Make Your Pair of Headphones from a headphone factory?
What's up, friends? It's Kimmar, and We're here to tell you about how to make your headphones from a reputed headphone factory or somewhere else.
You might need a pair of headphones if:
-You're an audiophile and don't like the way that any of the pre-made headphones sound.
-You're a music producer and want to be able to adjust certain parts of the sound in your headphones without having to buy new ones.
-You have an innovative idea for a pair of headphones and want to be able to test it out before investing in a full production run.
-You are a hipster and want some vintage-looking headphones or maybe you just enjoy making things by hand.
There are multiple ways of creating your pair of headphones, but they all require some tools. The main tools you need are:
-A soldering iron (used for gluing wires together)
-Soldering wire (it's used for creating connections between wires)
-Electrical tape (for covering wires)
-Screwdrivers (comes in a variety of sizes; used to remove screws from various things)
-A drill or a rotary tool (for drilling holes into objects)
If you don't have these tools at home, you can borrow them from someone else.

How We Help The Environment?
All in all, the headphone factory has a pretty cool environment to work in and everyone seems to be happy. Custom Headphones have been a prominent feature in all types of headsets with the impending craze of digital life. Kimmar is a Chinese company that offers all of the popular headsets with customized options, emphasizing the importance of customer pleasure.
The feeling of belonging prevails amongst employees and the atmosphere seems to be simple but heartwarming.ANC headphones, TWS earbuds, wireless Bluetooth headphones, and a variety of other custom music headsets are currently available.If you are interested in the manufacturing process of headphones, and how products come into existence, then this is a blog for you!